This post contains references to products from one or more of our advertisers. We may receive compensation when you click on links to those products. The content on this page is accurate as of the posting date; however, some of the offers mentioned may have expired. For more information check out our Advertising Disclosure.
There are plenty of search engines out there to find a cheap flight. Maybe you've got a favorite tool like Skyscanner, Hopper, or an online travel agency like Priceline or Expedia. But one option is better than all the rest: Google Flights.
Yes, that's right, the search engine behemoth is also king when it comes to finding cheap flights. It's incredibly powerful, with tons of features that will help you zero in on the best price. And it's got a bevy of filters you can use to narrow down to the flights you really want … and avoid the ones you don't. Plus, you can use this tool to search almost all carriers and book directly with an airline rather than through a third party – something that became more important during the pandemic.
We'll show you some of the best tips and tricks to book your next cheap flight at the lowest price. When you're done, you'll never use another flight search engine again.
The 411 on Google Flights
There's a reason why we recommend Google Flights above all others. It's the tool we personally use to find cheap domestic and international flights.
But let's back up a bit and explain the basics. And most the most important basic of all? Google Flights isn't like Expedia, Kayak, Orbitz, Skyscanner, or other popular travel search engines.
All those platforms are called online travel agencies or OTAs, from which you actually buy your flight, hotel, cruise, or other travel. Google Flights, on the other hand, is a global distribution platform where airlines directly publish their airfare. And you'll also find some fares on some major OTAs like Expedia or Priceline, too. It's really a one-stop shop for flights.
Pros of Google Flights
Because Google Flights isn't an OTA like the others, this actually gives Google some serious advantages over any other flight search engine:
You can almost always book directly with the airline. Cutting out the middle man when booking flights is more important than ever – you'd much rather deal with an airline agent than shoddy customer service from a small online travel agency.
No flight search engine does a better job showing months' worth of flights to help you find the cheapest flights possible, period. It will even alert you if shifting your travel dates by just a day or two could save you.
Google Flights allows you to search from multiple airports at the same time to find the cheapest airport to depart from – and that's key when it comes to saving on international travel.
As you'll see, you have unparalleled features and functions to filter your search results to find the flights you want – and avoid the flights you don't want.
Cons of Google Flights
That said, Google Flights isn't perfect. It's close, but there are a few drawbacks:
Because Google Flights relies mostly on listing airfare directly from the airlines, you can sometimes find cheaper fares through OTAs that cut deals with carriers to list deeply discounted flights.
Google is constantly updating the inventory of available flights, but we occasionally see some issues with outdated pricing. That means you might see a price on Google Flights only to click through and see a higher price tag.
While most airlines are available via Google Flights, a handful do not list their fares there (or other search engines).
Still, Google Flights is head and shoulders better than the alternatives. At the very least, Google Flights should be your first stop to find cheap flights. From there, you can always check to see whether you can find a better deal on the flights you find through OTAs like Momondo or Skyscanner … and then decide whether those additional savings are worth it.
How to Get Started with Google Flights
This is the easy part. Start your flight search by visiting Google Flights at https://www.google.com/flights.
While there is no shortage of other Google apps, there is no Google Flights app. You can use it on a smartphone web browser, but we think using the desktop version is best.
The homepage is user-friendly and provides immediate updates based on selections you may make in regards to your departure location, travel destination, dates, and more.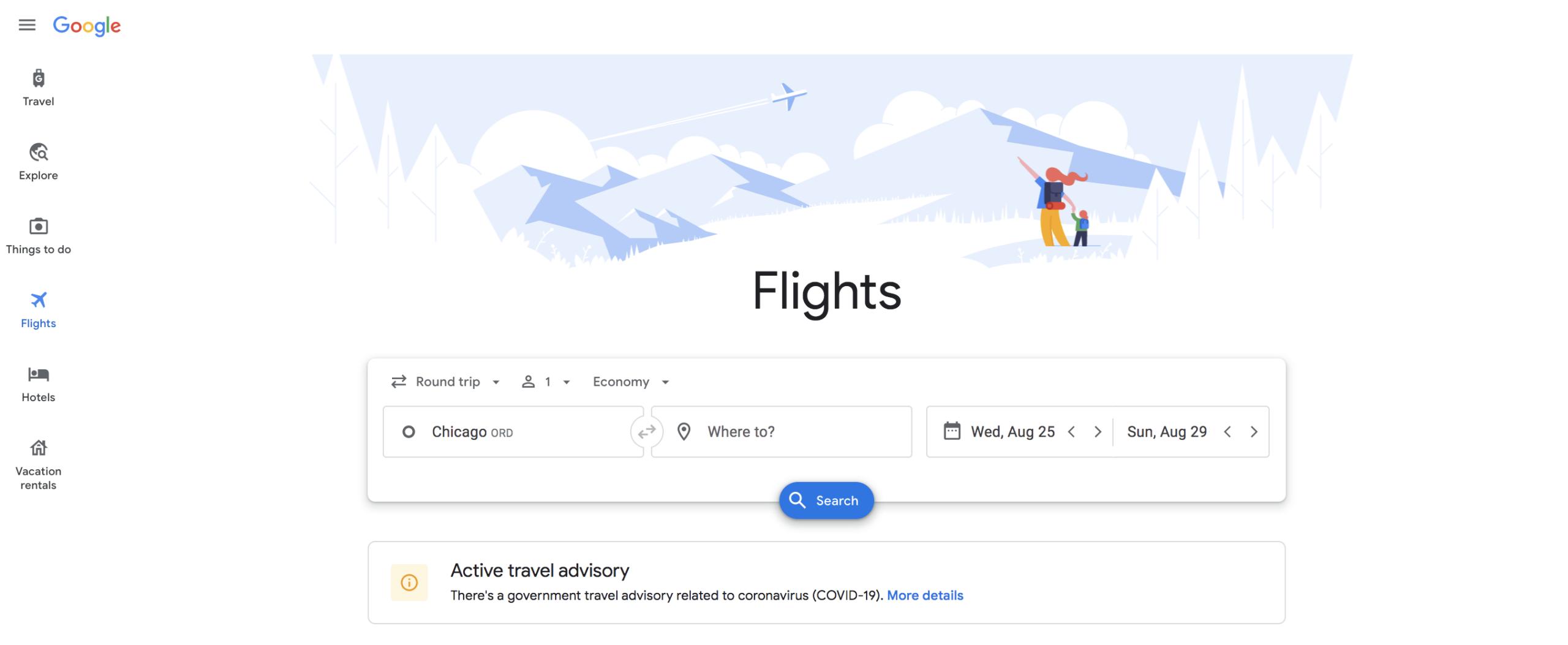 The Menu in the top left corner (three dashes), gives you shortcuts to Search Flights, Google Flights Explore, and Tracked Prices (where you can track price changes for a flight – more on this later). You can also access your trip information for upcoming travel with Google Trips, and even search for hotels. Finally, this is also where you can change your country, language, and currency – a valuable feature depending on where you're searching from.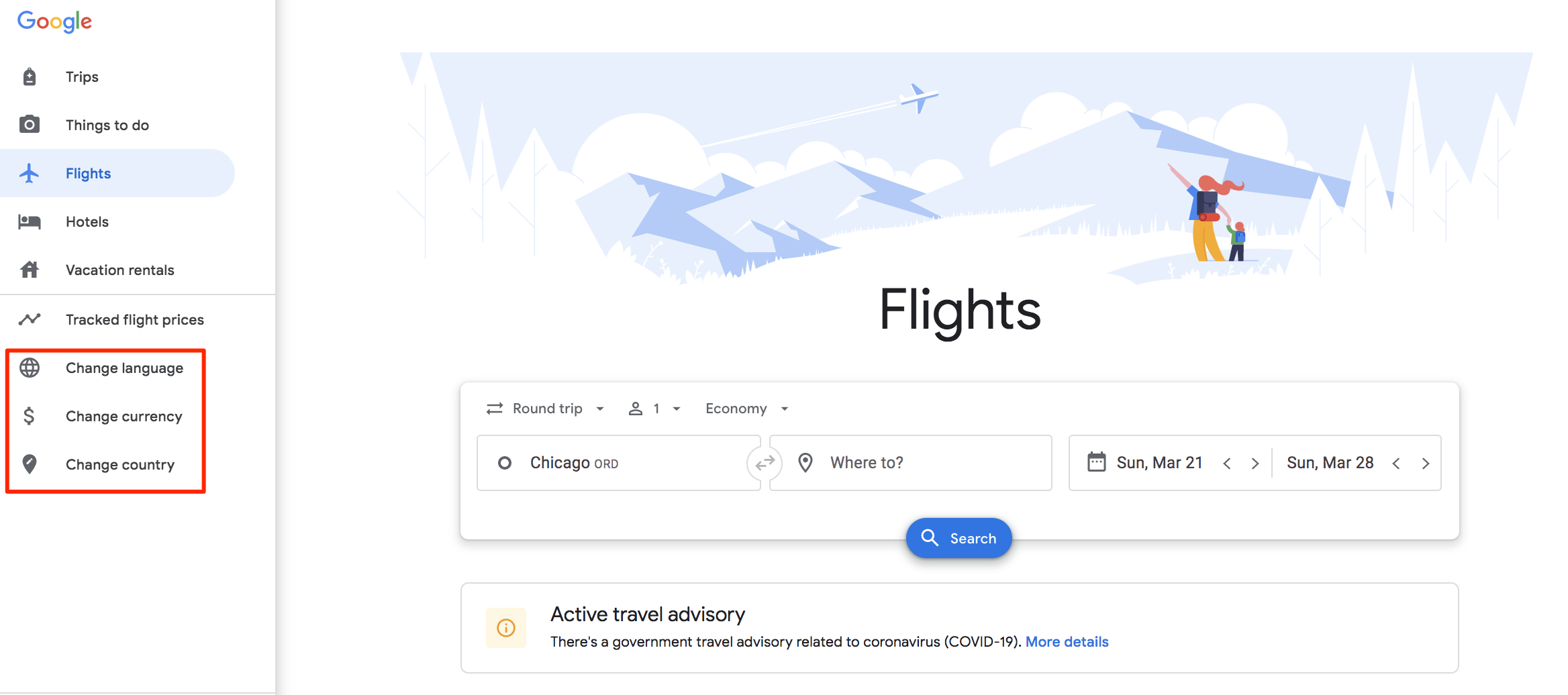 Flight Search is where you can enter information to start your flight search in the middle of the homepage. You can provide any of the following:

Departure Airport: You can choose up to seven departing locations to find cheap flights
Destination: You can enter up to seven locations to fly to as well
Dates of Travel
Type of Trip: Round trip, One way, or Multi-City
Numbers of Passengers: Adults, children, infants in seats, and infants in laps
Airline Class: Economy, Premium Economy, Business Class & First Class. Note that there is not a "Basic Economy" filter to remove those pesky fares from your results. But you can use this trick to remove most Basic Economy fares from your search.
Filter Google Flights Results to Fit Your Travel Needs
Sometimes, not just any flight will do. We've all got wants and needs, after all.
Looking to take a first-class flight for your honeymoon? Only want to depart after a certain time? Only want to fly a specific airline? Don't worry, Google Flights has taken these things into consideration.
Understanding the Filters in Google Flights
Here are all of the things you can filter when searching to find a specific flight:
Bags: This feature is a way to filter out many budget carriers and other basic economy fares. Add a carry-on bag to make sure your Basic Economy fares that allow free carry-on bags (like Delta or American Airlines) will still be included, while other airlines that don't include free carry-on bags in basic economy like United or JetBlue won't show up. This will also eliminate most budget carriers like Spirit, Frontier, Allegiant, and Sun Country from your results.
Stops: You can select how many stops you're willing to make during your trip – or simply make sure your results are only nonstop flights.
Airlines: Whether you have airline loyalty or are looking to finally take a flight on a five-star airline, you can use the Airline filter to only see flights for specific airlines or airline alliances like SkyTeam, Star Alliance, and Oneworld.
Price: On a budget? You can easily set the maximum price you're willing to pay for a flight.
Times: Need to depart in the morning? Or know you must arrive by a certain time? Use this filter to identify flights that fit the departure and arrival times that work for you.
Connecting Airports: Force Google to only display certain results based on which airports you connect through. You can also filter out flights with extra-long layovers.
More: Here you can set the maximum length you're willing to be on a plane, and also decide whether you want to see trips that are booked with separate tickets (for example, fly out with one airline and return on another).
Google Flights even displays the price differences between basic economy fares (which often come without free seat assignment and, in the case of United, without a carry-on bag), economy fares, extra legroom economy seats like Delta Comfort Plus, and sometimes even first class fares.